Are you looking for Wheel Balancing for your vehicle?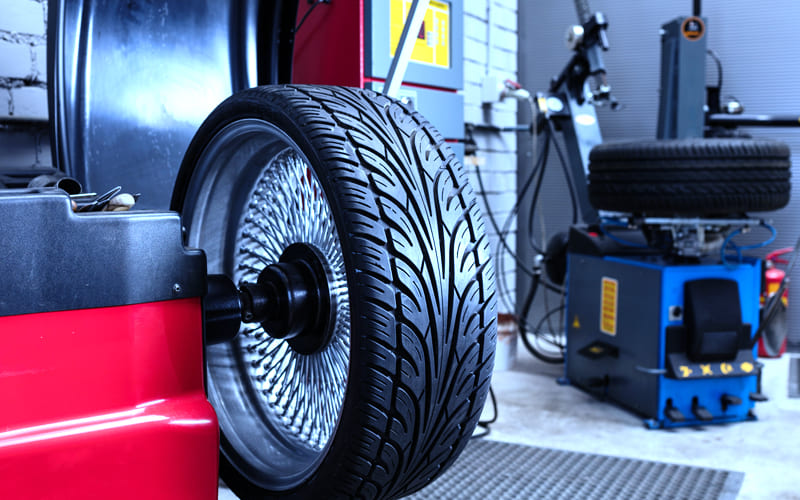 Are you experiencing difficulties in steering your vehicle? Or, is your vehicle's fuel economy dropping significantly? Noticing odd tread wear patterns leading to tread spot flattening?
If you have answered any of these questions with yes, chances are your car's wheels are not balanced properly.
In case of inaccurate weight distribution across the wheel and tyre assemblies, you will face significant driving discomfort and handling issues. Therefore, experts recommend car owners opt for a wheel balancing check after every 5000-6000 miles. This ensures maximum driving comfort and steering performance.
If you are looking for a "wheel balancing garage near me", look no further. Teltyres Telford Limited has you covered.
We are a reliable garage forwheel balancing Telford, offering value-for-money balancing checks to all car owners with our advanced balancing equipment. We assess the weight distribution across the wheel and tyre assemblies and then balance it accordingly by adding counterweights.
Our experts also conduct wheel balancing as standard practice after every tyre fitment because your safety is our top priority.
Factors that can lead to wheel imbalance
Damaged wheel rims
Worn-out shock absorbers and other suspension components
Incorrect tyre pressure
Driving through potholes and on rough terrains
Weight disparity around the wheel's valve stem hole
Manufacturing defects in tyres and wheels, etc.
Consequences of unbalanced wheels
Faster tread wear
Vibrating steering wheel
Compromised acceleration
Uncomfortable driving experience
Difficulty in steering the vehicle
Damaged shock absorbers, bearings, and steering rods
Poor steering response
Poor fuel economy
Reduced grip and handling, etc.
Ignoring these symptoms of unbalanced wheels can damage other components of your vehicle and eventually cost you hefty repairs in the future, besides jeopardising your on-road driving safety.
Hence, drive down to our facility and opt for wheel balancing Wellington garage at affordable rates.
Wheel balancing procedure at Teltyres Telford Limited
Firstly, we mount the wheel on our advanced wheel balancing machine.
We then rotate the wheels at high speeds.
Our experts take due note of all the measurements and readings.
Finally, they attach the appropriate counterweights to the internal or external surface of the wheel for accurate wheel balancing Telford.
You can call us during business hours to book an appointment.
Happy to assist you!