Are you looking for All Season Tyres for your vehicle?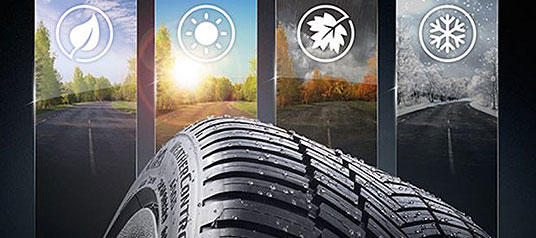 All-season tyres are designed to offer maximum comfort and a safe driving experience throughout the year in moderate climates. They come with a set of unique features that help them perform during mild summers and winters.
If you are looking for high quality all season tyres Telford , you needn't look any further.
We at Teltyres Telford Limited take great pride in our extensive tyre inventory including all-season tyres from renowned premium, mid-range and budget brands, known for their superior performance and durability. All tyres in our stock pass through rigorous checks by our team of highly qualified experts to ensure their driving performance, braking efficiency, etc.
So, whether you are searching for premium, mid-range or cheap tyres Telford, we've got you covered.

Brands available with us

Toyo
Michelin
Continental
Hankook
Goodyear

Pirelli
Dunlop
Bridgestone
RoadX
Churchill, etc.

Buy tyres online from us

You can now buy all season tyres Wellington from us online at competitive prices. All you have to do is enter your car's tyre size details or your vehicles reg. Number to take a look at our inventory online and take your pick anytime, any day, without any hassle. Once you have chosen your new tyres, you can also book a fitting appointment that suits you.

For more information about our tyre collection, please get in touch with our efficient team at 01952 249228 during working hours. Alternatively, you can come to our facility at Springhill Wellington, Telford, Shropshire, TF1 3NA, and select tyres of your preference.

Key features of all season tyres Telford

Specialised tread compound: All-season tyre variants come with a unique, all-adaptive intermediate rubber compound that ensures maximum steering responsiveness and handling performance throughout the year (as long as the temperatures aren't too extreme).
Tread design: Their intermediate tread depth optimises traction in moderate climates and lowers rolling resistance, thus significantly increasing fuel efficiency. Their thicker treads (compared to that of summer tyres) reduces uneven tyre wear and tear, thus providing more durability, besides minimising the risk of aquaplaning.
Extended service life: The unique tread compound is more durable compared to summer tyres. Hence, they take a longer time to wear out, thus saving you from frequent tyre replacements Wellington,Telford . 

Need help choosing the ideal set of tyres for your vehicle?

Feel free to ask for our expert advice. Our professionals will help you select the best tyres to ensure improved driving performance at affordable rates. 

So, get in touch at the earliest and end your search for the "best tyres near me!"