Are you looking for DPF Cleaning in Telford for your vehicle?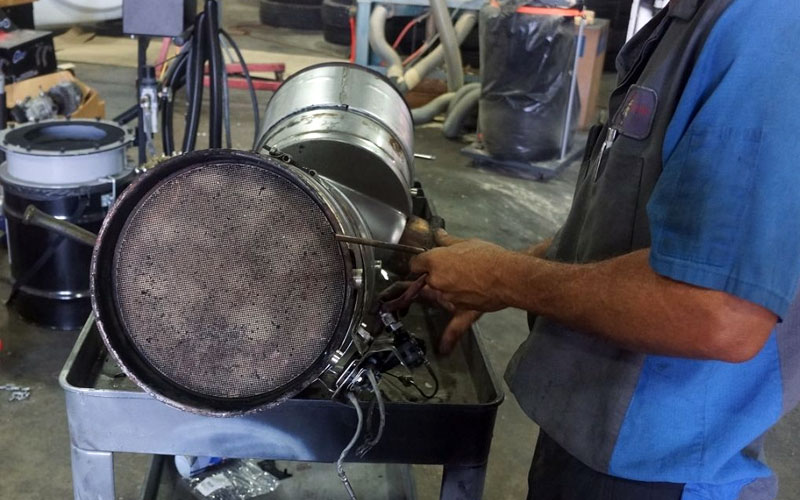 Have you been told your DPF needs replacing and been given an expensive quote? We are here to help! 99% of Diesel Particulate Filters (DPF's) can be restored as good as new with our indepth, off-vehicle dpf refurbishment service which could save you £££!
Call the depot today for a quote and see how we can help you.
If you own a diesel vehicle, you should get regular DPF Cleaning services from a reliable specialist workshop. In this regard, consider professional vehicle service centres like us - Teltyres Telford Ltd.
We are a professional service centre specialising in DPF cleaning and refurbishment services. Our in-house technicians are adept in DPF cleaning in Telford. They use advanced tools and carry out the suitable regeneration process and ensure optimal DPF performance in the future.
Functions of a DPF
A Diesel Particulate Filter (DPF) collects carbon residues, fly ash, sulphur and nitrogen residues, soot etc, generated during the combustion process. Thus, it reduces the emission level of your vehicle. However, over time this filter can get clogged and will not be able to filter and accumulate the residues effectively.
If you have reason to believe your DPF is becoming clogged, you should come to us for DPF cleaning Telford.
Here are some advantages of your vehicle's DPF:
Prevents the accumulation of combustion residues
Maintains engine health and performance
Helps your car in adhering to the UK environmental-friendly standards by limiting the toxicity of the eliminated gases
Signs of a clogged DPF
A faulty car DPF will show the following signs:
Reduced fuel economy
Black smoke from an exhaust's tailpipe
Poor engine performance as the ignition process is compromised due to the hazardous fumes
Blinking of the DPF light on your car's dashboard
Are you experiencing any of these symptoms?
Feel free to book an appointment with us today for a DPF check Telford.
How can we help?
Our experts provide DPF refurbishment services for a range of car makes and models.
Our DPF refurbishment service involves the vehicles DPF being removed.
Benefits of getting your DPF refurbished:
Prevent

engine component failures
Restore

vehicle power + performance
Increase

fuel efficiency giving you more MPG
Save

you money on potentially expensive repairs
Reduce exhaust smoke /

Resolve MOT emissions failures
Reduce engine noise /

Smoother engine
Interested?
So, quit searching for "DPF Cleaning Telford" or "DPF refurbishment Telford" and visit us at Spring Hill, Wellington, Telford, TF13NA.
You can also book our services online. All you need to do is enter your vehicle's registration number or car make and model details in the online section and make an appointment at your preferred time.
To know more, please call us on 01952 249228.