Are you looking for Tyres Size for your vehicle?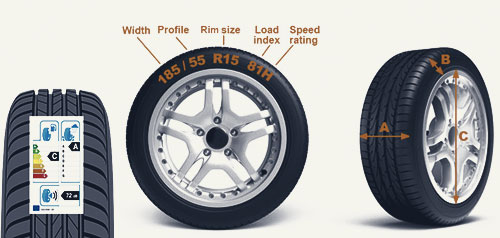 A considerable amount of time and research goes into determining the tyre size for a car model. Proper tyre size is crucial to ensure optimal driving comfort, performance and safety.
Buy car tyres Wellington of the recommended size to ensure handling precision, smoother acceleration, braking efficiency and vehicle stability.
Tyre size is basically the alphanumeric code embedded on a tyre's sidewall. It includes key details like rim size, section width, etc.
To purchase new car tyres Wellington of the right size, choose Teltyres Telford Limited. We house an extensive collection of tyres in our inventory to fit the requirements of different car models.
At our online portal, mention your car's registration number and tyre size details. Select your preferred tyres and make a purchase along with scheduling a fitting appointment at our garage.

Decoding the size of car tyres Wellington

Example: 175/60 R15 81H

175: These three numbers indicate the section width of the tyre model. It is the measurement between two sidewalls. It is the area that stays in contact with the surface.
60: This number is the aspect ratio of the tyre. Manufacturers derive this value by dividing the height of sidewall with its section width. In this case, the aspect ratio is 60%.
R: This alphabet denotes the tyre's construction type, which in this case, is radial.
15: These two numbers denote the rim diameter in inches.
81: These two numbers are the tyre's load index. It represents the maximum load-carrying capacity of tyres when optimally inflated.
H: H represents the speed index of the tyre, equivalent to 130 mph.

If you have any further query, please consult our experts before buying your next set of car tyres.

Therefore, please end your searches for "tyres near me" and drop by at Teltyres Telford Limited during business hours.